D-PHYbus D - Decode option
The MIPI D-PHY decode is the ideal tool for powerful system level protocol debug as well as problem solving for signal quality issues. The D-PHY decode solution adds a unique set of tools to your oscilloscope, simplifying how you design and debug MIPI D-PHY, CSI-2 and DSI signals.
Key Features
Decodes MIPI D-PHY, CSI-2, and DSI signals

Correlate analog waveforms with protocol decode on one screen

Decode up to 4 differential data lanes using the CDR feature

View decoded data in hexadecimal format

Decode information expands as the time base is adjusted or zoomed

Convenient table display with quick "Zoom to byte" capability

Quick search capability for specific message packets

Supports decode for LP & HS, HS only and LP only

Supports single-ended and differential probing for Data and Clock
The MIPI D-PHY decode is the ideal tool for powerful system level protocol debug as well as problem solving for signal quality issues. The D-PHY decode solution adds a unique set of tools to your oscilloscope, simplifying how you design and debug MIPI D-PHY, CSI-2 and DSI signals.
The Most Intuitive Decode
MIPI D-PHY decode uses color-coded overlays on various sections of the protocol for an easy-to-understand visual display. Depending on the time base or the amount of zoom, the decode information is condensed or expanded to better assist in understanding events during short or long acquisitions.
The Single Tool Enhances Productivity
The D-PHY decode solution concentrates all your information in one place. Viewing the application layer of D-PHY signals on top of the physical layer provides a unique view that bus analyzers cannot. A full suite of amplitude and timing measurements can be applied to debug physical layer issues that may not be apparent in a protocol view.
Complete Compliance and Debug
For a complete MIPI toolset, Teledyne LeCroy offers a D-PHY compliance package as well as a decode package for DigRF 3G signals. QPHY-MIPI-DPHY provides automated compliance testing to the MIPI Alliance specification for D-PHY version 1.00.00. The DigRF 3G decode package offers a quick and powerful way to debug the DigRG 3G design challenges.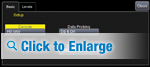 Quick and Easy Setup
Configure your MIPI D-PHY decode setup with flexibility to support any probing and lane combination. First select signal type, then data and clock probing configuration.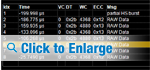 Convenient Table Display Summarizes Results
Turn your oscilloscope into a protocol analyzer with the table display of protocol information. Custom configure the table to display the information you want, and export table data into an Excel file. Touch the message in the table and automatically zoom for detail. In all cases, the table never obscures your waveform.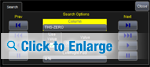 Search and Zoom
Search through a long record of decoded data by entering any of the 28 available search criteria by entering a value or simply finding the next occurrence.
Search on:

IDX

TLPX-CLK

DT

Time

TLP01-CLK

WC

TLPX-DATA

TCLK-PREPARE

ECC

TPL01-DATA

TCLK-ZERO

Msg

THS-Prepare

TCLK-HS

Data

THS-ZERO

TCLK-TRAIL

HSO

THS-SYNC

TCLK-REOT

HS1

THS-TRAIL

DI

Bitrate/Byte

TREOT

VC

Status

Attributes
Key Features
Symbolic decode with user-provided ULDF database file

Decode viewing control selection for 8+24, 8+2+19+2+1, or user-defined

View decoded data in symbolic, hexadecimal, decimal, or binary formats

Intuitive, color-coded decode overlays

Interactive protocol table with zoom and pattern search

Automated timing measurements (DME option only)

Serial digital data extraction to an analog value (serial DAC) with waveform graphs (DME option only)
Intuitive, Color-coded Decode Overlays ("D")
A transparent overlay with color-coding for specific portions of each protocol and the entire message frame makes it easy to understand your serial data information. Unlike other solutions, with protocol decode information away from the signal, our solution correlates the waveform and the protocol decode directly on the display. As the acquisition length is expanded or shortened, the decode overlay will adjust to show you just the right amount of information.
Symbolic Decoding
Provides a unique and powerful way to view decoded data. Using a user provided ULDF file, the label and equipment ID fields can be displayed to match the user provided file, showing an easier to interpret protocol display.
Interactive Table Summarizes Results ("D")
Turn the oscilloscope into a protocol analyzer with a tabular display of decoded information. Customize the table to show only the data of interest and touch a message in the table to automatically zoom to it and display it on the screen. Export the table for offline analysis. Up to four different decoded signals of any type may be simultaneously displayed in the table.
Measure/Graph Tools for Validation Efficiency ("M")
Quickly validate cause and effect with automated timing measurements to or from an analog signal or another serial message. Make multiple measurements in a single long acquisition to quickly acquire statistics during corner-case testing. Serial (digital) data can be extracted to an analog value and graphed to monitor system performance over time, as if it was probed directly. Complete validation faster and gain better insight.
Eye Diagrams (
Rapidly display an eye diagram of your packetized low-speed serial data signal without additional setup time. Use eye parameters to quantify system performance and apply a standard or custom mask to identify anomalies. Mask failures can be indicated and can force the scope into Stop mode.